The Nerikomi process of working with Colored Clay is complicated and takes time to learn. Many people get discouraged by the wrong choice of stain or cracking in the pieces. Stains can be expensive, so mistakes can be costly.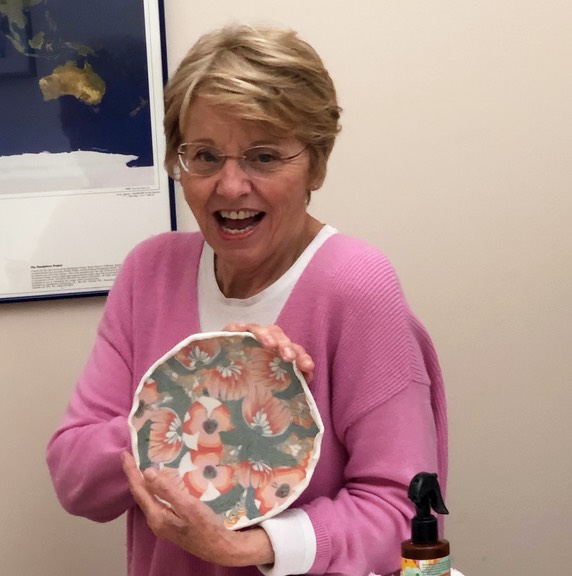 I have taught Colored Clay Workshops for over 20 years so I know how to help potters through this journey. I want you to succeed. I want to share the joy of working with color.
What students say about my teaching 
When my in person teaching was paused by Covid, I decided to spend my time in the studio recording a Beginners Workshop that I could share online. It took over a year to produce this series. It is the BEST Workshop I have ever taught.
 Beginners Colored Clay Workshop 
I offer a  10 1/2 hour series of 8 videos.  I guide you step by step through the entire process of hand building with colored clay. We start by choosing clay and stains and end up with a successful glaze firing of the work.
FREE -  You can now stream Video #1 of this series for free. 
I discuss clay & stain choices then teach you how to mix stains into clay and slips.

Follow this link and click on the FREE button
CLICK here for details of each video so you can decide which you would like.
Video # 2- Skinner Blends  - Time 57:00 minutes
A simple, FUN way to create sheets of secondary colors to use in your patterns
Video # 3 – Stripes- Time 1:00 hour
Creative options for making striped canes with Skinner blends
Video # 4 – Checked Patterns  - Time 1 hour 13 minutes
Creating checked patterns from your striped canes
Video # 5 – Herringbone Patterns  - Time 1hour 23 minutes
How to create a herringbone patterns using your striped canes
Video # 6 – Bullseye/Jellyroll Canes  - Time 1 hour 37 minutes
Multiple ways to create and use these versatile canes
Video # 7 – Hand Building with Colored Clay Canes - Time 1 hour 35 minutes
Everything you need to know to successfully build your Artwork using the canes you have made.
VIDEO #8 – Dry, Clean, Glaze, Fire  - Time1 hour 37 minutes 
The title says it all … finish the work successfully
I have a series of Master Classes as well where I present a complete single topic.
MASTER CLASSES 
BUILD A COLORFUL SET OF DISHES & BOWLS  -  Time 1 hour, 9 minutes
FIVE FLOWER CANES -  Time 1 hour, 45 minutes
Learn to make 5 distinctive flower canes
HOW TO INLAY A PATTERN - Time  23 minutes
TO BUY LIFETIME STREAMING FOLLOW THIS LINK TO MY VIMEO SITE