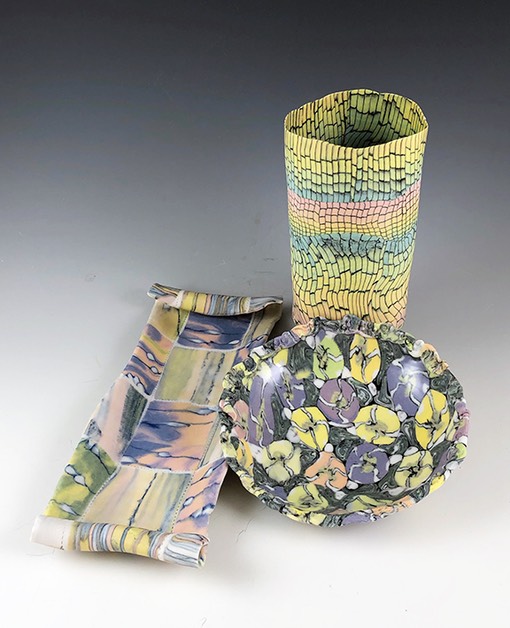 Beginners Colored Clay Workshop 
This 10 1/2 hour foundation series of 8 videos  will introduce you to the Nerikomi technique of hand building pottery with colored clay patterns.
FREE -  You can now stream Video #1 of this series for free.  In this video I discuss clay & stain choices then teach you how to mix stains into clay and slips.
Follow this link and click on the FREE button
There are 7 more videos in this Workshop.
You can buy or rent any of these lessons through this link:
https://vimeo.com/user38933870/vod_pages

COLORED CLAY WORKSHOPS WITH CHRIS CAMPBELL
Video # 2- Skinner Blends  - Time 57:00 minutes
A simple, FUN way to create sheets of secondary colors to use in your patterns
Video # 3 – Stripes- Time 1:00 hour
Creative options for making striped canes with Skinner blends
Video # 4 – Checked Patterns  - Time 1 hour 13 minutes
Creating checked patterns from your striped canes
Video # 5 – Herringbone Patterns  - Time 1hour 23 minutes
How to create a herringbone patterns using your striped canes
Video # 6 – Bullseye/Jellyroll Canes  - Time 1 hour 37 minutes
Multiple ways to create and use these versatile canes
Video # 7 – Hand Building with Colored Clay Canes - Time 1 hour 35 minutes
Everything you need to know to successfully build your Artwork using the canes you have made.
VIDEO #8 – Dry, Clean, Glaze, Fire  - Time1 hour 37 minutes 
The title says it all … finish the work successfully
Follow this link to see the complete index to each of the Beginner videos
MASTER CLASSES 
BUILD A COLORFUL SET OF DISHES & BOWLS  -  Time 1 hour, 9 minutes
FIVE FLOWER CANES -  Time 1 hour, 45 minutes
Learn to make 5 distinctive flower canes
HOW TO INLAY A PATTERN - Time  23 minutes
TO BUY LIFETIME STREAMING FOLLOW THIS LINK TO MY VIMEO SITE