The Basic Beginner Workshop is the 10 1/2 hour foundation series of 8 videos that will teach you all aspects of making & using colored clays for hand building work.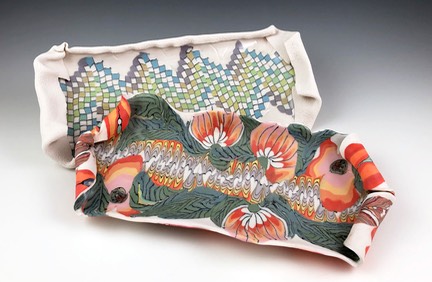 FREE - You can now stream Video #1 of this series for free.
I want you to see how I teach.
YOU decide whether you want to buy or rent the whole series or any of the videos one at a time.
Yes, I know you can get free videos. They teach one step or one skill. I guide you through the entire process … step by step. I will save you time and money as well as preventing much frustration.
FAQ's  for the Basic Beginner Workshop
COMPLETE CONTENTS of the Basic Beginner Workshop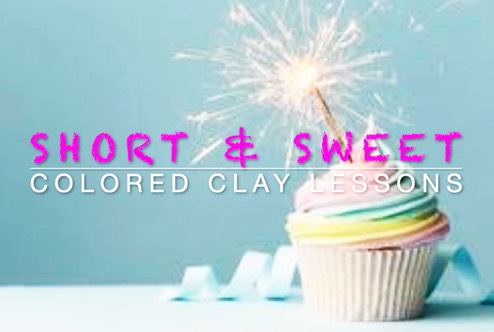 The 'SHORT & SWEET' videos present one or two techniques in a quick 20 minute format. 
MORE Info on the 'SHORT & SWEET' series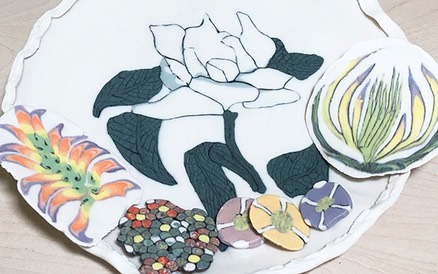 'MASTER CLASSES' are designed for students who are looking for a challenge after taking the basic workshop either live or on video. 
MORE Info on the 'MASTER CLASSES' series

All students are included in occasional Zoom calls to ask any questions or to show your work to other interested students. Leave your email address when you rent or purchase a video.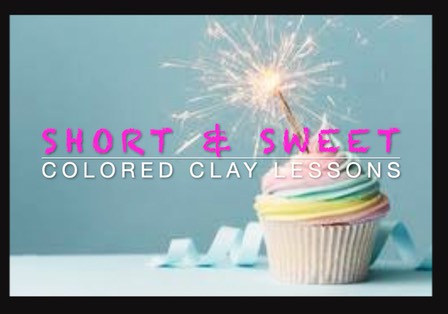 Here are some comments from my past students 
"Chris was a thoroughly prepared teacher. She was totally open and sharing of her knowledge."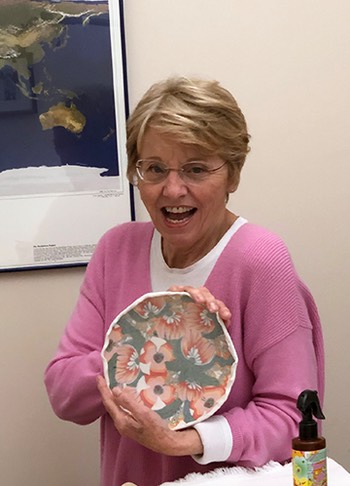 "Yours is a fun class & your teaching style encourages exploration & gives students permission to play!" … Richard Lopez
I learned so much and I'm dreaming of projects every night. You did such an amazing job with prep and the demos and everything else. Your passion for colored clay is wonderful.  Thank you! Tracy Simmons
"It was a such a pleasure to work with you and to have you share your expertise here this weekend. What a well organized workshop! I am enjoying hearing positive student comments. Not everyone has so much patience. Thank you."  Analia Howard, Claymakers, Durham NC
"THANK YOU for a delightful class .You are a wonderful instructor - patient, knowledgeable, creative and fun." Nancy Germond  
" When I signed up for the workshop, I knew I would learn something useful, but didn't really think I would want to use your techniques in my own work. All I've done since then is think about what patterns I can make and how to use them." Carmela Picone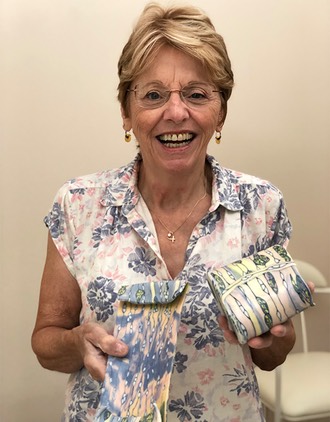 " WOW!" For those of you who missed Chris Campbell's Colored Clay Workshop, take it if you have another opportunity ... Chris did a fantastic job of explaining her technique of coloring the clay.She was very free with her knowledge in all areas of pottery as well as with her own techniques and strongly encouraged us to use these methods in our own work. The workshop was made even more enjoyable by the fact that Chris obviously enjoyed teaching."  CDA, Norfolk VA
"I was swimming laps yesterday and the sunlight on the bottom of the pool looked like murrinis to me. They are everywhere! Thanks for a week of non-stop information and inspiration"  Eleanor Broaded
"Thank you for a great experience this weekend.  Your passion and your knowledge shined through.  I can't wait to go the studio and try some options.  I also appreciated the atmosphere of fun and learning you created during the workshop."  Anne Halligan-Luca
"I wanted to email you to tell you how wonderful the workshop was!  I am so excited about the newpossibilities that are now open to me. I am now confident about using color in my porcelain jewelry. The workshop was just exactly what I needed to get the creative juices flowing in that new direction."     Barbara Tilley