This article is a summary of the study done by Mea Rhee of Good Elephant Pottery in 2011.
http://www.goodelephant.com

This is a great blog to follow as she often posts excellent business and design advice.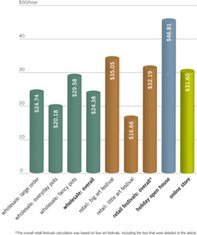 Methodology 
I kept track of the time spent working, including the following tasks:
preparing clay (recycling, pugging, wedging)

building pots (throwing, trimming, altering, hand building)

loading and unloading the kiln

glazing

studio cleanup

applying hang tags to finished pots

packing for delivery

accounting
From the total dollar value of the order, I subtracted the expenses I could quantify. I did not track the time spent on tasks that were not specific to one order
clay

shipping boxes

a proportional percentage of my Buyers Market expenses

tools/equipment use and maintenance

glaze mixing

clay unloading

utilities

bubble wrap and packing peanuts
1. Large wholesale order
It is a large order that contains a good mix of low, medium, and high priced items.
Mixed wholesale order : $24.74 per hour.
2. Side by side Comparison of two wholesale orders
Their total sales amount were nearly the same.  One of them is mostly of everyday functional items priced $25 to $120. The other order consisted mostly of my "fancy" line of pottery, hand-carved with illustrations, priced from $180 to $350. The everyday pieces are quick to produce. The fancy pieces are time-consuming, prone to failure, and space hogs in the kiln. 
Everyday items :  $20.18 per hour.    Fancy items :  $29.58 per hour. 
3. "Artscape Baltimore" - large retail crafts festival. 
Artscape Baltimore is a huge weekend festival with a variety of activities and a large, diverse crowd. I've done it for eight years and my sales have always grown.  A big disadvantage: 28 long hours.  I am only counting my earnings for the pots I sold, not all the pots I brought to the show. 
I added the time spent on the following tasks:
• writing and sending a blast email (surprised to realize I spent 1.25 hours on this)
• packing my pots and my display into my car, and unpacking afterwards
• setting up my display, and taking it down
• those 28 hours of selling
• accounting 
From the total sales amount, I subtracted the following expenses:
• booth fee and application fee
• credit card merchant fees
• parking
Large retail craft show : $35.05 per hour.
4. Art in the Park - Small arts festival
I did my homework before signing up. This is a good quality show, even though it's small  Small shows require much less planning and heavy lifting. The hours are usually shorter. It's a lot cheaper to do. 
Little craft/arts show :  $16.66 per hour.
5. Bethesda Row Arts Festival - medium-sized
Even though this is a smaller event in terms of size, it is higher on the "fanciness" scale. Bethesda is an upscale neighborhood just outside the DC border. Overall, the crowd was huge but the noise level was quiet and refined. Sales were brisk.
Medium craft show : $32.20 per hour
6. American Visionary Arts Museum - BAZAART
It's pretty small with only 50 artists, and is held indoors in their gorgeous reception hall. I had a feeling it would draw a good crowd, and that folks would be eager to shop on Thanksgiving weekend. 
Bazaart -  $36.32 per hour.
7. Open House
An Open House is very different from an art festival on many, many fronts. For starters, there's no booth fee! I printed and mailed a postcard invitation, and provided food and snacks for my customers.Those expenses ( shared with one other artist ) added up to $318, which is still less than the booth fee of most good-quality art festivals. 
The time and labor requirements are less. Setup and takedown for an Open House takes more time than taking my display and pots to a festival site. But, unlike the casual browsers that must be seduced at an art festival, the attendees at an Open House are already fans. They have signed up for my mailing list, responded to an invitation, and gone out of their way to a private residence with the intention of buying. This means the selling can be condensed into much shorter hours. 9 hours.
Open House :  $46.81 per hour
8. Online Store  BigCartel (http://bigcartel.com) 
Etsy is a far more popular venue, but BigCartel fits her needs much better. She is not comfortable selling to a customer who hasn't seen her work in person. The store is targeted only to existing customers to purchase something between shows. All sales are final. No returns or exchanges. She can pack/ship/account for an order of one pot in less than 15 minutes. For orders with multiple pots, never more than 30 minutes. She added up the gross sales of the pottery plus the shipping fees collected. She subtracted shipping costs/Paypal fees/BigCartel fees/Clay used/Shipping boxes. She did not subtract expenses she could not quantify. 
Online store $31.60 per hour