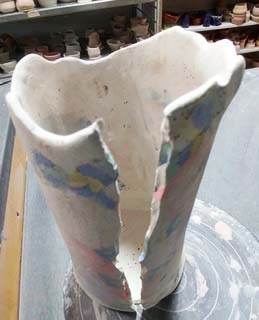 The number one 'problem' question I am asked is
 "Why did this crack?"
The number one answer is ...
"SLOW DOWN, YOU ARE GOING TOO FAST"
Its just that simple.
       SLOW DOWN EVERY STEP OF THE PROCESS
In the pottery world the normal turn around time is around 7-14 days. 
Make a pot, let it harden, trim it, bisque, glaze, high fire … Bingo! Done. 
BUT … Colored Porcelain canes and patterns are a whole different world.
Your patterns and designs have thousands of places where the clay is meeting slip. You have rolled the clay, colored it, shaped it, stretched it, joined it … what haven't you done to it on its journey to being a vessel??
At each step of the process, you have to give the clay a chance to rest, even out humidity wise and join together before you move on to the next step. 
Depending on the complexity and size it can require anything between overnight to days for very large work. While it is resting the humidity is evening out, the slip is attaching to the clay, the whole design is coming together rather than staying in separate parts.
When you make a vessel with the canes, again SLOW DOWN. 
You need to give the work time to shrink back from a rolling process. You need to cover the work any time you leave it to make sure it stays evenly humid. 
You have to respect all the work YOU have put into it to get it to this point.
Once finished with the making,  you cover the tops with paper or paper towels to absorb any water drops from the plastic.  Then wrap the whole piece, by itself, in a double layer of dry cleaner type plastic and LEAVE IT ALONE. 
Do not open it at all for two days. 
Open on third day you will have firm , evenly moist pieces ... leave them under a loose drape of plastic to dry in a sun and draft free area. 
The notion of slowing down is key to bringing down the percentage of what you might think of as ' failures' but are really predictable results of rushing your clay.
THE NUMBER TWO answer lies in construction.

- Are all sides even in thickness?
- Is the whole piece at the same level of moisture?
- Have you evenly compressed by using your rolling pin with downward pressure rather than side to side?
- Have you allowed stretched pieces at least 1/2 hour to shrink back?
- Have you given your piece enough time to even out in moisture before you start trying to get it to dry?
- Have you taken into account the fact that clay has a memory?Did you bump it or lift it or drop it? These type of cracks sometimes do not show up until high firing.
THE NUMBER THREE ANSWER is SUPPORT
Once porcelain gets beyond a self supporting cylinder shape it needs to be supported during firings. Otherwise the piece will warp, collapse or crack. There is no grog to hold it up so you have to. Here is a link to this area of my website.
THE NUMBER FOUR ANSWER is in the kiln firing

Electric kilns cool very quickly. This is OK for many clays but not for porcelain. If you are getting sharp edged cracks,  the kiln might have cooled too quickly. 
Firing down your kiln will eliminate a large number of cracks that are caused by the rapid cooling of electric kilns. If you have a computer controlled kiln this is an easy fix … your owners manual likely has a controlled cooling program you can program.
For manual kilns, there are many Youtube type videos that will teach you how to manually fire down/control cool your kiln.
SO, what is the answer for WARPING?

Sometimes it lies in design ... the shape of the vessel putting pressure on one point. 
If all pieces are not the same thickness, warping can happen.
Large or badly balanced handles can cause warping by pulling the porcelain out of shape . 
Everything goes slower with a thicker form … drying, heating and cooling. Rushing this can cause cracks as well as warping.
Sometimes, it is just a mystery that needs some trial and error to solve.
** CLICK HERE ** IF YOU WANT TO LEARN EVERYTHING ABOUT COLORED CLAY, TAKE MY FABULOUS ONLINE WORKSHOP