COMBINING CLAY BODIES
 Often we will want to combine two different colored clay bodies to create our swirls and patterns or maybe we just have bags of two different white clays that we would like to use up. What should we consider before we do this? 
SHRINKAGE
As long as you match the Cone temperature can you safely mix your clay bodies? 
The simple answer is NO. 
You have to match the shrinkage rates too.
 Imagine making a blouse out of two white fabrics that can be washed but one will shrink 3% and the other 10% … not a pretty picture after the first wash. Actually we see this in clothing where the manufacturer did not match the thread and the fabric shrinkage … you have puckered seams you can never get rid of after the first wash.
 Two clay bodies shrinking at different rates ends in cracking or warping.
Before you combine any clays make sure they will shrink at the same rate.
This is very easy to do.
Make a 6" long bar of each clay and put it beside a ruler.
Mark the inches, halves and quarters.
Let it dry to bone dry and put it back beside the ruler. Make a note of the shrinkage.
Fire it to bisque and re-measure.
Fire it to its max temp and re-measure.
Now you can take a magic marker and note all the rates on the back of the bar.
If your two clays shrink at the same rates you are good to go.
If not, don't do mix them together … it will not work out.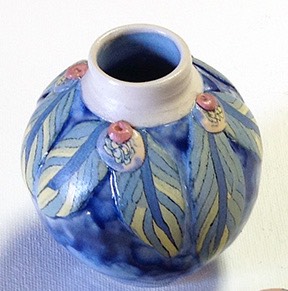 This rate is especially crucial if you are trying to add small sprigs of color/pattern to another piece of work. 
If they are shrinking at different rates you have very little chance of success.
You have the best chance of adding sprigs if the sprigs are very thin and you place them … not roll them … on to another piece.
** CLICK HERE ** IF YOU WANT TO LEARN EVERYTHING ABOUT COLORED CLAY, TAKE MY FABULOUS ONLINE WORKSHOP