Porcelain has no grog in it so it cannot support itself during high firings. When you are using porcelain clay bodies you need to think about supporting your forms during your firings.
Once the shape gets beyond self supporting cylinders it will warp or crack during firings if you don't support it. 
One way I have found to do this is making my forms from a white clay that fires higher than the porcelain I am using. A clay that works in wood firings is a good choice.
These forms can be thrown or hand built. I highly recommend using the forms as SLUMP molds, not hump molds. Shrinkage is mostly a non-issue in a slump mold.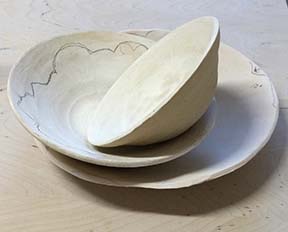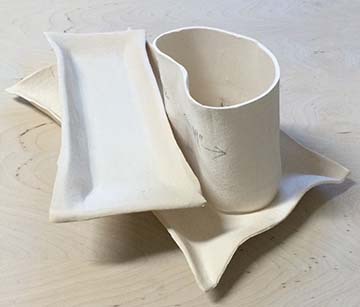 I make the forms, bisque fire them... then coat the surface with a thin layer of kiln wash. I do this so the finished piece will not stick to it.
I build the work in most of them and keep them in them for both fire.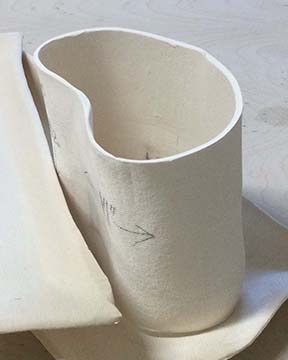 Except for this one which is only used as a support form while building. 
DO THE MATH
If you want the finished piece to be 10"x 10" and your clay shrinks by 10% then you have to start with a form that is at least 11" x 11" to compensate for shrinkage.
To take this one step further … if you want to re-use your support forms for years you should remember that your support form will shrink too. After the first high firing use, the 11" form will only be 10" x10".
So for a re-usable form start with a greenware 12" x 12" that shrinks to 11" x 11" and stays that way forever. That way you will always end up with your 10' x 10" dish.
** CLICK HERE ** IF YOU WANT TO LEARN EVERYTHING ABOUT COLORED CLAY, TAKE MY FABULOUS ONLINE WORKSHOP